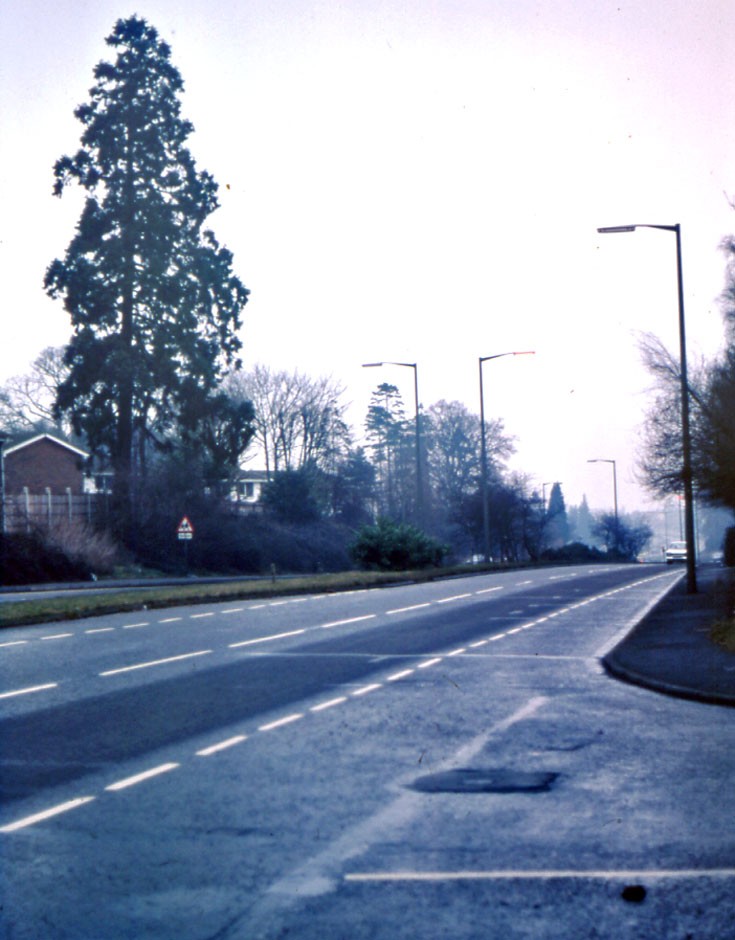 The Banstead Image Library
Lone Wellingtonia along the A217 in Burgh Heath
This photograph (scan of a slide) taken as the light was fading on 19th January 1980 shows the Wellingtonia (tall tree) alongside the A217. It was one of a pair that were either side of the entrance to "Cold Blow". The entrance was a short cutting through the sandstone bank that ran alongside the road from the entrance to Tangier Wood to the common.
Banstead Village School (and probably other school) meals were prepared (or partially prepared) at "Cold Blow" and taken by Austin van in large lidded aluminium trays to the school canteen that was almost opposite the police station in the High Street.
Many trees were felled for the widening and dualling of the A217 about 1959/60, and only one of the pair of Wellingtonias survived. The remaining tree survived the 1987 storm (as did most Wellingtonias), but lost some of its top. Just about all of the sandstone bank was removed to make way for the road widening from one 22 foot carriageway to two 24 foot carriageways.
The photograph is taken looking northwards from Canons Lane. I'm sure the road sign around 1950 was "Cannon Lane" later changed to "Canons Lane".
Picture added on 28 November 2018 at 12:56
Comments: