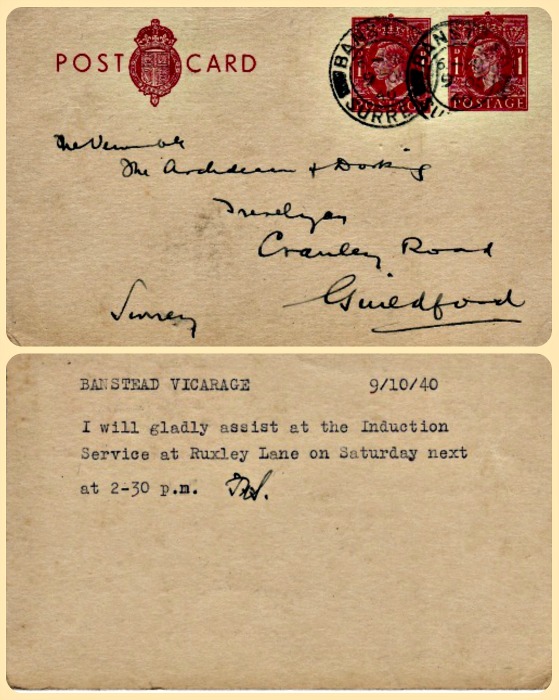 The Banstead Image Library
A postcard from Banstead Vicarage
A postcard, dated 9 October 1940, from Canon Skene of Banstead to the Archdeacon of Dorking: "I will gladly assist in the Induction Service at Ruxley Lane on Saturday next at 2-30 p.m.", he writes.
The Rev Canon Frederick Norman Skene (1878-1956) was Vicar of Banstead from 1929 to 1951 and Rural Dean of Epsom. He lived at the Vicarage, in Garratts Lane – a large house set in a huge garden, which has now been developed into a Surrey County Council care home. The Archdeacon of Dorking at the time was the Venerable Edward Joseph Newill.
The service to which Canon Skene refers was the public licensing of the Rev James Armitage as Curate in Charge of St Francis Church in Ruxley Lane, Ewell – a position he held from 1940 to 1944. The service was conducted by the Bishop of Guildford, the Rt Rev John Macmillan on 12 October 1940.
Our grateful thanks to Duncan Mirylees at the Surrey History Centre in Woking for delving back into the archive on our behalf, and providing this interesting information.
As you can see, the prepaid postcard is complete with a heavily stamped Banstead postmark.
Picture added on 18 August 2017 at 14:07
Comments: