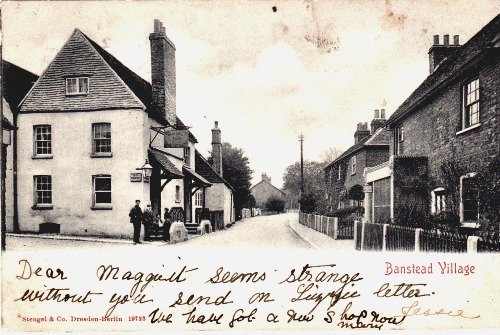 The Banstead Image Library
Banstead Village in 1904
A nice image from the turn of the 20th century: the Woolpack public house is on the left, and a pleasant group of houses on the right and beyond. Every building in the postcard has since been demolished to make way for the High Street, but the Woolpack name has of course been carried down the generations and still exists on the modern nearby pub today.
What's interesting about this postcard, postmarked 2 February 1904, is that the publisher (see bottom left) is Stengel & Co of Dresden-Berlin, with the reference number 19723. At the time, Stengel (founded in 1889) was the largest publisher of postcards in the world, but because of fierce competition from many British companies, it withdrew from the UK market around 1906.
But back to this card. The handwritten message reads: "Dear Maggie, it seems strange without you. Send on Lizzie letter. We have got a new shop now." It's signed Mary and Jessie, and the lucky recipient of this dizzying information was Miss M Chaplin, 1 Belsize Park Terrace, Belsize Park, Hampstead. Like the buildings in this postcard, Belsize Park Terrace no longer exists.
By the way, the reason for the message being on the front is that when postcards first became popular, only the name and address of the recipient could be written on the reverse - so postcard publishers of the day left a blank space below the image. Then, in due course, the law was changed to allow both the address and a message to be written on the reverse - but I don't know the details.
Picture added on 12 July 2017 at 09:00