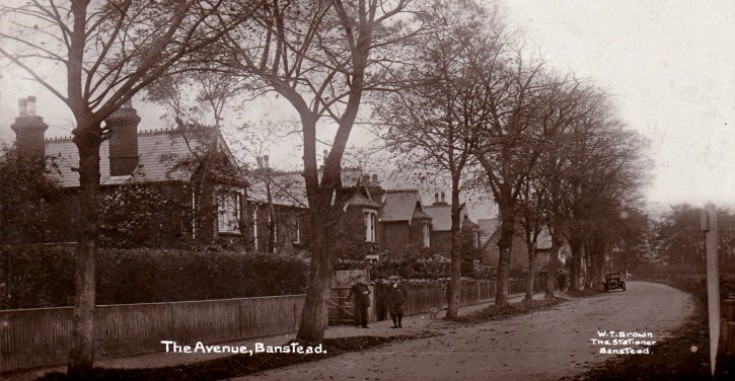 The Banstead Image Library
The Avenue or Avenue Road?
This postcard of The Avenue is postmarked 3 March 1911, and I'm wondering whether The Avenue is now what we know as Avenue Road. The style of architecture is similar, I think, and the fact that there are no houses on the other side of the road could indicate that this land became the Lady Neville recreation ground.
Against this, however... the road in this postcard is curved; Avenue Road, of course, isn't. Any thoughts or observations would be appreciated.
Reply from LNW: This photograph was taken from close to the junction of Avenue Road and Court Road. I have another postcard showing exactly the same view including the post on the right, and it is clearly marked as Avenue Road which I must agree looks more curved in the photo than you might imagine. My card shows the bank at the far end and exactly the same trees some years later. I have another postcard of Avenue Road which is titled The Avenue. I have several other postcards that are incorrectly titled so it is not a surprise to find another one although this name may have changed over time. The surprise is finding a Banstead postcard that I don't have in my collection!
Picture added on 15 October 2016 at 11:46
Comments: