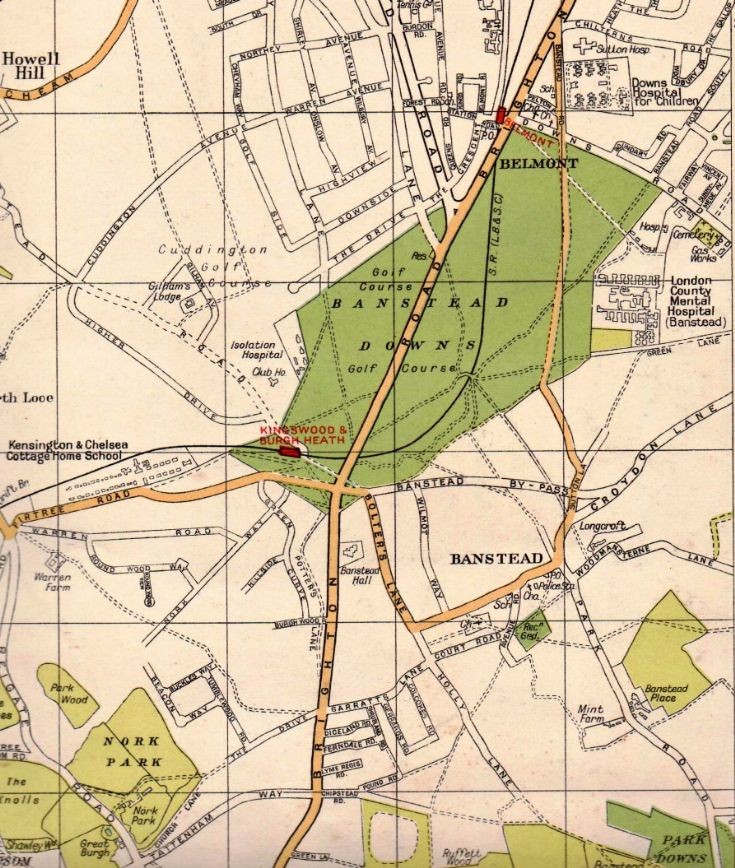 The Banstead Image Library
Map of Banstead from 1932
I recently bought this map of Banstead, published by Geografia in 1932 – and it's fascinating. For example, what we now know as Winkworth Road is marked 'Banstead By-Pass', but the High Street isn't named. Bolter's Lane (note the apostrophe)and Wilmot Way are there – but the map predated Greenhayes Avenue, Glenfield Road, Harbourfield Road, Buff Avenue, Sandersfield Road and Lambert Road.
Interesting, too, that along Firtree Road is marked 'Kensington & Chelsea Cottage Home School' – was this the forerunner of Beechholme? And – this is quite curious – what we now know as Banstead Station is marked as 'Kingswood & Burgh Heath' – part of the LB&SC (London, Brighton & South Coast) Railway.
The London County Mental Hospital (Banstead) is there, not too far from the Gas Works in Belmont. And note the 'Isolation Hospital', which seems to be set in the grounds of Cuddington Golf Course.
Anyway, here's the map… I hope you make your own discoveries!
Picture added on 20 November 2014 at 20:27
Comments: