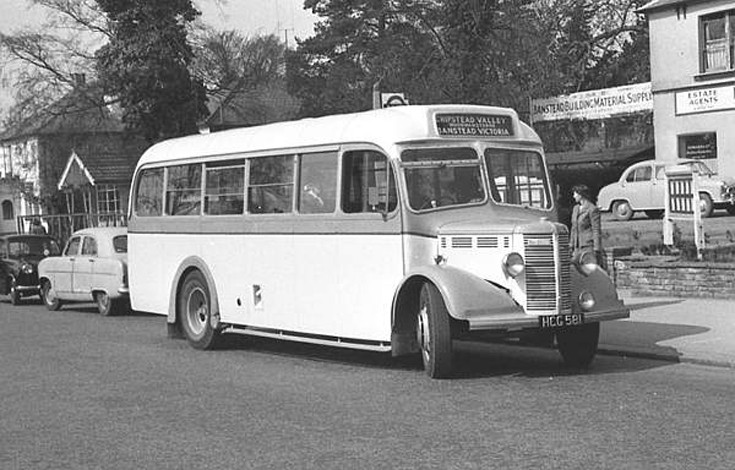 The Banstead Image Library
The Candy Floss bus
HCG581, run by Banstead Coaches was known locally as the CandyFloss bus because of its pink and cream livery. It was a Bedford OB with a Mulliner B31F body which had been new in 1949 to Ford, Silchester. Banstead acquired it in November 1958.
The principal driver was one Vic Smith who would stop anywhere safe once outside the village. Sometimes he would drop off heavy groceries for people who lived on route.
It is seen here just along from The Victoria Hotel, whilst operating the service from Banstead through Woodmansterne to Chipstead Valley.This service, which commenced in 1959, operated daily. The route ceased operation in September 1986 with the last bus decorated with streamers and balloons.
A story, which may be apocryphal, appeared in one of the local newspapers about a man and his dog who used the bus regularly to visit the local pub. The man died but, with the help of the family and the bus driver, the dog continued the pub visits for his saucer of beer and pat on the head from customers.
The bus appears in "Southbound from Croydon" by J.T. King & A.G. Newman published by The Omnibus Society in 1965.
The Banstead History Research Group would like to include an image of this bus in a new local history publication about the village of Woodmansterne but so far we have been unable to trace a colour picture of the bus. If you have one, do please let us know.
We are aware of a video on Youtube which shows this very bus and can be viewed by clicking the link below.
This photograph was taken by the late John Boylett on Saturday 4 April 1959, and is shown here courtesy of John Kaye, .
Much of John's collection is now hosted on the 'SCT61' website (see link below).
John has kindly provided the following information on bus codes over the years:
Regarding the Bedford OB, Bedford used to allocate a letter to each basic chassis type and hence there were the C, D, J, M, O, R, S and the T at various times.
The OB was a model number and was the bus version of the 'O' chassis whilst the goods version was an OL. The first OBs were built in 1939 but the war intervened and it was replaced by the OWB (for wartime), with the OB returning after the war and continuing until around 1951 when it was superceded by the SB for buses and coaches with the goods ones being SH models. The 'Green Goddess" fire engines were a mixture of SH (two wheel drive) and RL (four wheel drive) types, and the later Bedord TK was a favourite goods chassis with the driver sitting over the front wheels.
Picture added on 08 January 2014 at 09:48
This picture is in the following groups
Transport
Comments: