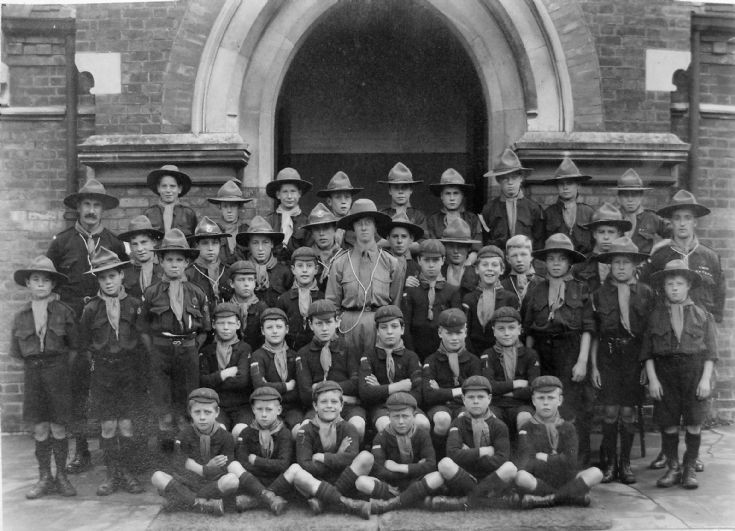 The Banstead Image Library
1st Banstead Troop of Boy Scouts - Beechholme
The 1st Banstead Troop of Boy Scouts was formed on 17 July 1909 and was based at the Kensington and Chelsea School later known as Beechholme.
The photograph shows the 1st Banstead Troop of Boy Scouts in 1925.
From Left to Right..
Back Row: A. Gibbs, A Constable, G. Miller, C. Banner, R. Barker, A. Corner, D. Wright, A. Mitchenall, V. Armstrong.
Third Row: S./M. W.R. Waldron, Second R. Waters, Leader F. Whiley, E. Carter, Leader C. Rolph, Second J. Seale, G. Trump, Leader F. Sickenger, Second E. Morrison, A./S./M. D.G. Smith.
Second Row: E. Dennis, A. Wetton, Second W. Taberer, Second A. Robertson, S. Rolph, Cub Mistress Miss D.E. Waldron, E. Seale, Second P. Chamberlain, P.Keogh, A. Morrell, J. Mansbridge.
First Row: J. Ramsey, Second H. Engler, Sixer, T. Wilder, Sixer, S. Cook, J. Stevens, D. Greatorex.
Front Row: C. Carrington, L. Carrington, W. Hudson, R. Harris, G. Mobey, S. Geer.
Picture added on 13 March 2011 at 23:24
Comments: