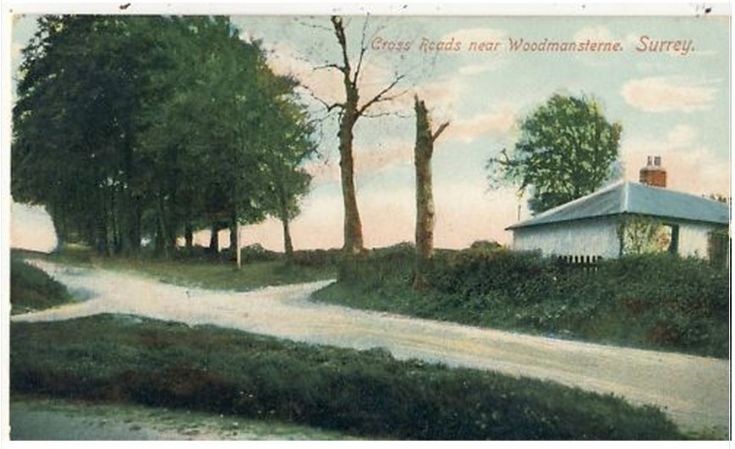 The Banstead Image Library
Carshalton Road (by the mini roundabouts)
A postcard I bought on eBay for £1.50. It's postmarked 1905 and shows Alresford and Bramdean, postmarks. It was posted to Aldershot.
The location is the bottom of Carshalton Road, by the mini roundabouts. There was once a cottage ( a wayside pot house) on the SE corner where the traveller site is now. That is the house. It sits up on the bank, which is correct.
The view in the postcard is looking Eastwards, up the slope of Woodmansterne Lane looking towards Purley. Note the dust coming off the blurred image of the cart, and the bright white chalk of the roads, which is correct for that area, which has no clay cap. The trees on the right are still there – beeches, much bigger now than they were then. On the left, going downwards, is Woodmansterne Road, which leads down to Carshalton. The right turn is not in fact Carshalton Road going up to Woodmansterne. It is the entrance to a cart track called Grove Lane leading SE wards up to the Mount, and then down to Coulsdon. It is still there, but much more overgrown-- a flint surfaced bridle way. If the photographer had panned a bit to the right, you would see the bottom end of Carshalton road itself, by the traveller site. You would then indeed view up the hill towards Woodmansterne.
To the right, coming towards us, from the crossroads, is the very beginning of Croydon Lane, going past our right hand and then past us, up hill past the Oaks park cafe entrance towards Banstead.
(Thanks to Lewis White for assistance in identifying the exact location).
Picture added on 11 March 2011 at 20:31
Comments: